As a busy homemaker, mother and wife, I am ALWAYS on the lookout for more ways to save myself time and money.  I have found several ways to accomplish both in many instances that I have built into my regular routine.
I thought it would be fun to share my findings with you.
I've compile my top 7 tips that have been tried and true this past year in helping me save time and money for my family.  Most of the tips seem to help me do both, but there may be a few that are more money saving than time saving and vice versa…you be the judge.  So without further a
*Affiliate links included below, read my disclaimer policy here.*
Tip #1 Adopt a minimalist lifestyle
I have truly grown to appreciate the minimalist lifestyle.  There are just too many positive aspects to ignore.
I can think of many obvious benefits that would make converting an appealing proposition.  One obvious perk, and probably the most important is saving money.  Stop and think about all of the items that you've purchased in the past five years that eventually were stored away, given away, or just plain tossed out.
Another huge benefit is the time you will save on having to clean and dust unnecessary paraphernalia cluttering up your home. 
A few years ago I was dusting the bookshelves in the living area of my home. I noticed all of the dust accumulating in the crevices of all the different knick-knacks I'd collected.  After spending about an hour washing and dusting all the items on that shelf and then turning to realize that I still had to clean the stuff on all the tables and on my fireplace mantle… I was done! That's when it hit me if I'd just get rid of half of all the mess lying around my house, I'd cut down on my housekeeping by 2 hours …sign me up!
Yet another benefit is that it helps you to become more organized.  You will actually be able to find your stuff!  Now, who doesn't want that?  Assigning a home to each and everything that you have will help you to locate your things more readily.  In addition, adopting a minimalist lifestyle will lend itself to you being more aware of things when they are out of place, missing, or need to be replaced or refilled. It's a win-win.
Your stress levels will be lowered and you'll feel calmer and more at peace.  At least, I do.  Clutter seems to make me anxious and overwhelmed.  Always having to remind yourself to pick up something or put something away.
Let's not forget all those times that you make a seasonal purchase and forget to purchase another storage bin, so the items just sit around when it's time to be stored until you remember to get another bin the next time you make a Target run…ugh!
That was a tangent, wasn't it?  …sorry!
You get my point though, less stuff means less stress.
Now for the best part, your home can look Fab-U-Lous with minimalist decor.  Check out some of these amazing examples:
MyDomaine.com has an amazing article on minimalism interior design, here are a few of the featured photo's.
I'm completely in love with the clean aesthetic of this space while still feels warm and inviting. Here's another.
If these two examples feel a little too modern for your taste, check out these examples from ElleDecor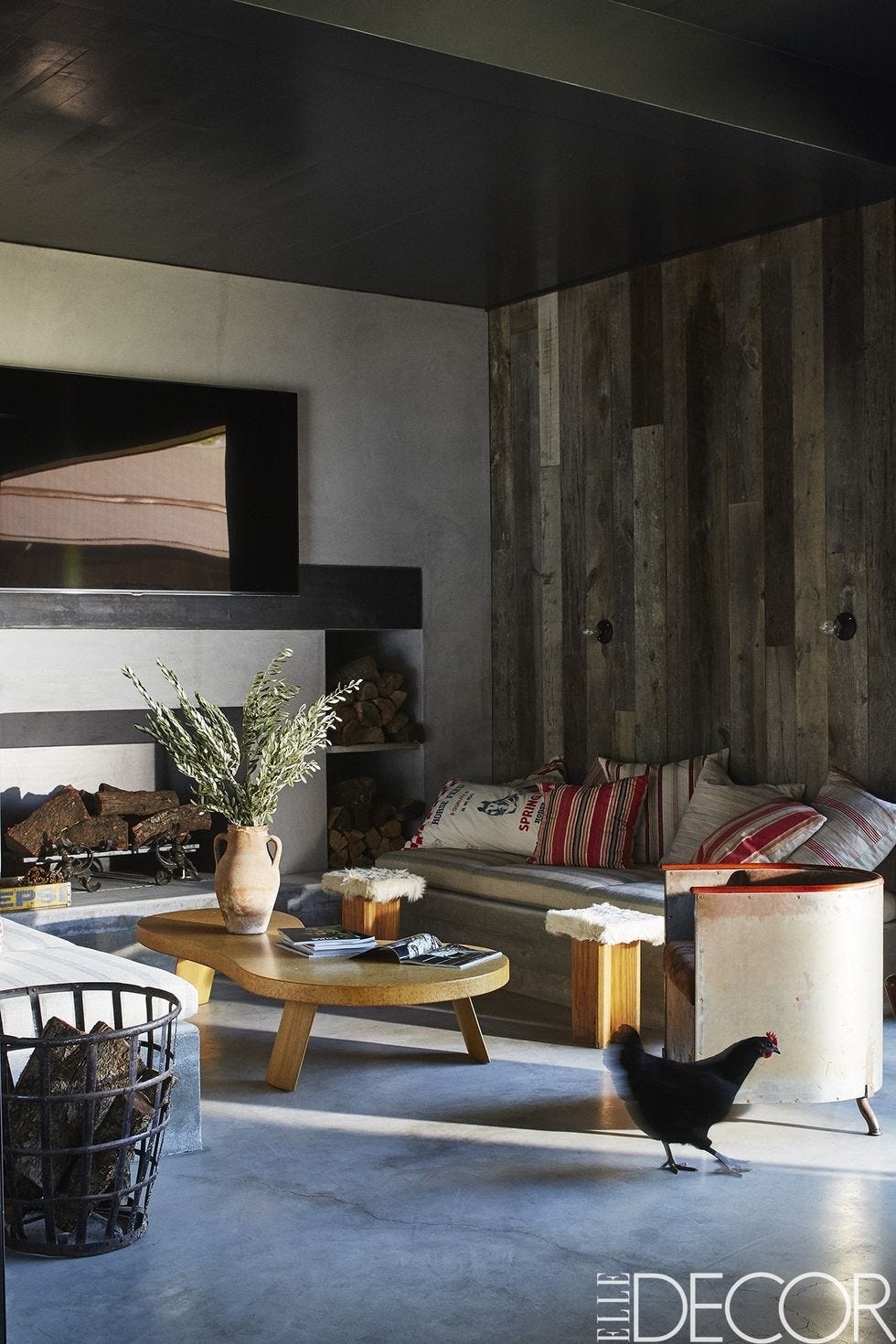 You can check out the full article here at Elle Decor
I actually love them all and I'm hoping these ideas will get you excited about clearing out the clutter to help you save on valuable time and money.
Tip #2 Meal planning around what your family actually LIKES to eat
When it comes to meal planning, I have found that when I try to find shortcuts, I'm usually the one falling short.  When I purchased or downloaded pre-planned meals for my family I find that they don't like half of the meals on the plan, or many of the meals have ingredients that increase my food budget.
I found that it is best, at least for my family to simply keep a running list of the meals that we actually like to eat. I will normally jot these down in a regular planner on my monthly view page so that I can see at a glance what we have had to eat.  Then go from there.  Most families eat the same 12-14 meals on a regular basis.
This is the foundation of your meal plan.  Then simply add any new recipes that you may find that your family has enjoyed, to the rotation.
I also like to change things up seasonally.  In the summer we enjoy lighter fare such as grilled meats and vegetables with limited carbs.  In the winter or colder months, I like to make southern-style comfort foods.  I keep this in mind when creating my meal plans.
Meal planning in this simple way not only helps me to save money but it also helps me to save time.  I pretty much always know what to purchase when I'm in the market whether I have my list with me or not (but I usually keep it with me because it's in my planner). Therefore, I know how much my grocery bill will be and I'm also able to get in and out of the market fairly quickly.
Tip #3 Use a grocery saving/rewards app like Ibotta
I like to use Ibotta to plan my shopping list and to earn money back on all the stuff I was going to purchase anyway like eggs, milk, orange juice, bananas, and bread. 
Because I have kids, I like to get them a little treat once in a while and Ibotta usually suggests some of the items that the children have been nagging me to get for them.  I save money, they get something that they wanted, and I get to be the hero…Yeeessss!
The app is super easy to use.  You simply click on all of the stores that you normally shop at.  The app will then identify all of the special deals at each of your chosen stores, and you click on the items that you are interested in purchasing.  Next comes the fun part. Once you've made your purchase you simply take a photo of your receipt and whaa-la…you get money back on all of the items from the list.    
A few times, I've made purchases that didn't show up from my receipt.  Ibotta has a contingency plan for those rare instances.  If your item doesn't show up, you'll be prompted to take a photo of the scan code on the product and you're all set.
In addition to getting cash back, if you love the app as much as I do, you can refer friends and family to earn extra cash.  I think it's a win-win!
Tip #4 Commit to establishing a morning and evening cleaning routine
Having a morning and evening cleaning routine can also save you on both, time and money.
When you wake up in the morning and you know exactly what you are going to be getting done that morning, you can immediately get started without those time-sucking thought sessions about what you need to do.
If you know that you are waking up and feeding the baby, putting on the coffee, making your bed and putting in a load of laundry, then you can do these activities in a streamlined manner.
These routines will save you money by keeping you stocked up on the things that you need to run these routines on a regular basis.
For example, I like to run my dishwasher at night and my washing machine in the morning.  Every day, I'm doing this so I know when I'm out and can replenish my stock by placing an online order beforehand.  I can then locate discounts in a timely fashion instead of having to run out and pick up products that I need out of desperation and having to pay more for them.  It also helps that I use the same products most of the time which saves me money by not wasting it on products that I do not love.
Tip #5 Learn a new skill
Commit to learning a new skill that benefits your household by either saving you money or by bring more money in.
This is probably my favorite tip.  There are SO many ways that we as homemakers can not only invest in our own personal development but to also contribute financially to our households.
Cooking: If you enjoy cooking then you could learn to prepare healthy (vegan, gluten-free, whole30, etc.,) meals for working mothers that may not have the time and energy to prepare a healthy, home-cooked meal for their families in the evening.  You could place an ad and take on a few clients, and simply cook up a few extra batches of what you're already making for dinner.
Sewing, crochet, or knitting, or needlepoint: I sure I don't have to tell you how popular farmhouse/cottage-style decor is these days.  Folks are buying up all sorts of handmade goodies to grace their homes.  Throw blankets, pillows and pillow covers, and needlepoint circle artwork, just to name a few items that you could sell to bring in some extra cash.
In addition, to the farmhouse decor popularity, there are other practical items that are much appreciated handmade such as baby items, aprons, and house dresses.  The list goes on and on.
Woodwork and carpentry: Again, wooden signs, coffee tables, lawn and garden decor are all the rage.  Not only will making them for your own home save you oodles of money, but there's plenty of opportunities to sell your goods for a profit.
Painting and art: Watercolors for handmade stationary and greeting cards, refurbishing and painting old furniture, and hand-lettering can all be profitable ways to stretch your knowledge-base. Not to mention fun and personally rewarding.
Writing/Blogging:  There's tons of information on the web about how to start a blog.  It's a great way to be creatively expressive and to step out of your comfort zone.  It can also be quite profitable.  If blogging isn't your thing, then perhaps freelancing as a writer would be more suitable.
These are just a few suggestions, but I'm sure you get the point.  Learning a new skill can be just what you need to save loads of money and to possibly even make a little side hustle.
Tip #6 Get on the delivery ban-wagon
With many of the big companies providing shipping and delivery options, there has not been a time when it has been easier to get everything you need conveniently, saving you valuable time.
Using a program like Amazon Prime make it easy and simple to order your products and have them shipped straight to your doorstep.  I happen to love Amazon Prime because you get 2-day shipping on most of the products that they sell, but also you get access to hundreds of movies, music, and unlimited photo storage with the membership.  In addition, they offer Amazon Pantry Prime. Amazon Pantry Prime is a monthly subscription box for your household products, food, healthcare and personal items, and baby care items.
There are so many other delivery services out there, and if you have a favorite or want to try one out.  I personally like the idea of getting everything I need from one subscription, so I'm just mentioning the Amazon Prime option here.
I can go into more detail on other delivery options if you like, just leave me a comment below if you'd like me to post about that.
Tip #7 Honey, need I say more?
If you have started using Honey to save on all of your online purchases, then what are you waiting for???  I have found SO MANY deals using this Chrome extension that I just have to share this good news!
It's super simple to download the Chrome Extension and the tab is always at the top of your browser bar.  Whenever you go to make a purchase, Honey will tell you if it's the best price or if there is a lower price offered by another company for the same item…How cool is that?
It also shares any coupon codes that may be out there to help you save even more money…LOVE IT!!!
Wrapping It Up
So there you have it!  My seven tips for saving both time and money in my own homemaking routine.
Let me know if you give any of these suggestions a try, I'd love to know how they are working out for you.
Be sure to check out my  FREE guide, Love Your Homemaking Ministry, it's packed with 28 tips and ideas for serving your family and community.  You can sign up for your immediate download in the subscription box below.
Blessings, and Happy Homemaking!